February 2, 2007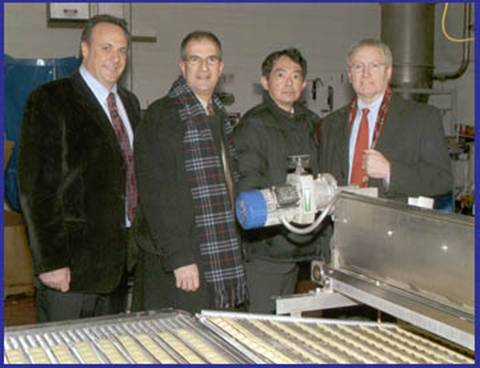 Legislator Muscarella Supports Empire Zoning
Nassau County Legislator Vincent Muscarella recently took a tour of Seviroli Foods located in Garden City. The Empire Zone Administrative Board passed a resolution to allow Seviroli Foods to apply for designation within the Empire Zone as manufacturing Regionally Significant Projects. Seviroli Foods has been manufacturing, producing and distributing various pasta products for over 30 years to a national market, and is the largest fully automated tortellini producer in the world.
Designation as an Empire Zone would allow Seviroli Foods to receive tax incentives from New York State as a benefit for bringing an additional 100 employees to Nassau County.
Pictured left to right are Joseph J. Seviroli, owner of Seviroli Foods, Legislator Vincent Muscarella, Miles Kuwahara, Nassau County Attorney, and Michael Schaffield, Director of Development Unit, Office of Economic Development.