July 23, 2007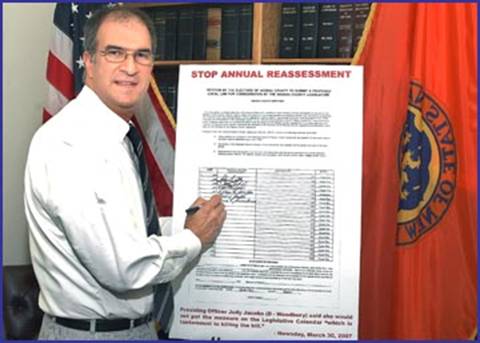 Legislator Muscarella Supports Petition to Force
Nassau Legislature to Consider Five Year Property Assessment Freeze
Nassau County Legislator Vincent T. Muscarella and fellow legislators have started a petition drive to force the legislature's Majority to hold hearings on a proposed law that would scrap the county's current program of annual property reassessment.
Earlier this year, Legislator Muscarella was one of nine legislators to sponsor a new law that would freeze property reassessment for five years. During this period, a homeowner's assessed valuation could decrease but never increase. The Majority in the legislature, which has complete control over what proposed laws are scheduled for a public hearing, has refused to consider the measure.
"The unjust increase of property taxes each year has lead Nassau County residents to believe they have no voice in their own county. The residents are being taxed out of their homes and this is something I will not stand for. I will not back down until a hearing is put on the calendar in favor of freezing annual property taxes," said Legislator Muscarella.
Anxious for action, Legislator Muscarella and his colleagues have turned to provisions of the Nassau County charter and government law that would require the county legislature to schedule a public hearing on a proposed local law upon the submission of a petition signed by more than 2,000 qualified county voters.
The legislators and candidates are circulating this petition throughout all nineteen legislative districts in the county to obtain the required signatures. "I have traveled throughout my district with this petition and have received nothing but positive reviews. The people have spoken and the majority of residents are not going to settle for anything less than they deserve. Our county is a strong one, but in order to keep it that way we must join in the fight for fair taxes and demand a hearing on this proposal," said Legislator Muscarella.