January 3, 2012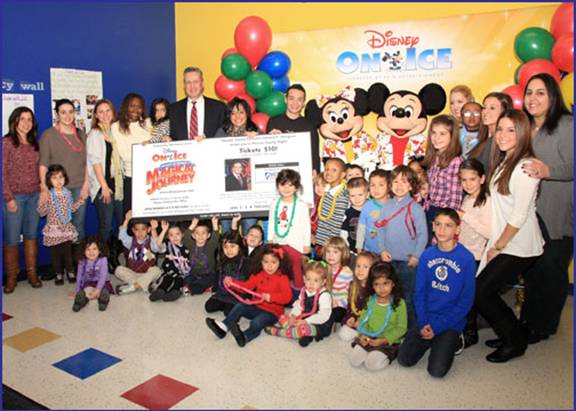 Legislator Nicolello joins with Ed Mangano to Announce
Discount Ticket Prices for "Disney on Ice" for all Nassau County Residents
Nassau County Executive Edward P. Mangano and County Legislator Richard Nicolello officially launched the Nassau County Executive's Community Pass with Feld Entertainment, which will enable Nassau County residents to purchase discounted tickets to Disney on Ice performances at the Nassau Veterans Memorial Coliseum.
Linda Mangano, wife of the County Executive, read a Disney story to the children of Tutor Time of New Hyde Park, who had an opportunity to meet their favorite Disney mice, Mickey and Minnie.
The County Executive's Community Pass will enable Nassau County residents to purchase a deeply discounted $10 ticket for the 7:30 p.m. performance on Friday, January 6th at 7:00 p.m. to the Disney on Ice Mickey and Minnie's Magical Journey. Nearly 60,000 community passes will be available through the County Executive's office and residents can call (516) 571-6000.
"I thank Feld Entertainment for providing Nassau residents with these community passes, which provide family entertainment at very affordable rates," said County Executive Mangano. "During these difficult economic times, our residents truly appreciate this opportunity. Disney and Feld are truly good corporate citizens."
Future events with Feld Entertainment include the Monster Jam show on January 27th at 7:30p.m. with tickets available to Nassau residents for $15. Future County Executive Community Passes will be available for events such as Ringling Bros. and Barnum & Bailey, Feld Motor Sports, Disney on Ice and Disney Live! Feld Entertainment is the worldwide leader in producing and presenting live touring family entertainment experiences that lift the human spirit and create indelible memories, with 30 million people in attendance at its shows each year. Feld Entertainment's productions have appeared in more than 70 countries on six continents.