January 5, 2012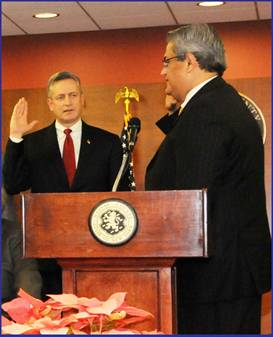 LEGISLATOR NICOLELLO SWORN IN FOR NINTH TERM
In a ceremony at the Theodore Roosevelt Executive & Legislative Building in Mineola, Legislator Richard J. Nicolello was sworn in for a ninth term as representative of the 9th L.D., a position he has held since the inception of the Legislature in 1996. At the Legislature's initial meeting, Legislator Nicolello was re-appointed Chairman of the Finance Committee. He was also appointed Vice Chairman of the Committee on Economic Development and Labor, as well as a member of the Budget Review and Towns and Villages Committees.
Legislator Nicolello stated, "I thank the residents of the 9th L.D. for the great honor and privilege of serving as their Legislator. The next two years will be a time of great challenges for Nassau County. I will continue to work to hold the line on taxes and to make the changes in county government that the people are demanding."
As always, constituents seeking assistance or to express their ideas and concerns may contact Legislator Nicolello's office by phone at 516-571-6209 or by email at rnicolello@nassaucountyny.gov. Residents are also invited to join Legislator Nicolello's e-team by visiting his web page at www.nassaucountyny.gov and his Facebook page at http://www.facebook.com/LegislatorRichNicolello
In the attached photograph Legislator Nicolello is shown being sworn in by Hempstead's Senior Councilman Anthony Santino.