January 11, 2010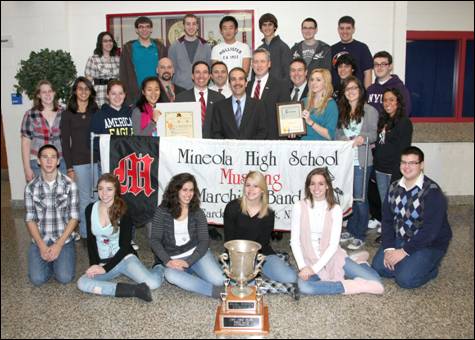 LEGISLATOR NICOLELLO & MAYOR MARTINS CONGRATULATE THE MINEOLA H.S. MARCHING BAND
Recently, Nassau County Legislator Rich Nicolello and Mineola Mayor Jack Martins visited the Mineola High School to honor and congratulate the School's Marching Band on their impressive 1st place victory at the 2009 New York State Field Band Championships.
The competition, held in Syracuse hosted over 5,000 musicians from 52 New York high schools. With a total score of 88.05, the Mineola Mustangs were the sole Long Island band to earn a top spot at the competition. This honor is truly a testament of the students' and their instructors' hard work and dedication.
Shown in the photograph from Left to Right: Mineola Superintendent of Schools Michael Nagler, Village of Mineola Mayor Jack Martins, Village of Mineola Trustee Paul Pereira, Mineola High School Principal Ed Escobar, Legislator Rich Nicolello, Mineola High School Director of Fine Arts Peter Freeman, and members of the Mineola High School Marching Band.