February 3, 2011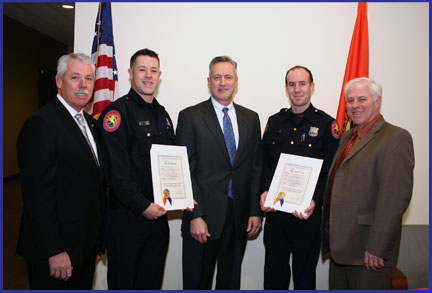 LEGISLATOR NICOLELLO RECOGNIZES NASSAU COUNTY POLICE OFFICERS
JUSTIN SCHACKNE & THOMAS WILLDIGG AS "TOP COPS"
Legislator Richard Nicolello and the Nassau County Police Department recognized Third Precinct Police Officers Justin Schackne and Thomas Willdigg as "Top Cop" honorees for their actions in an incident that occurred in the parking lot of the New Hyde Park Stop & Shop shopping center.
Upon arriving at the scene, they observed a male assault and force himself into the back seat of a female's car. As the Officers attempted to rescue the woman, the subject suddenly put the automobile in drive in an attempt to flee the scene. After using their patrol car to block the automobile, both officers approached the car and ordered the occupants out of the vehicle. Officer Schackne was able to free the kidnapped female and safely remove her from the car putting her out of harm's way. The male subject refused to comply with Officer Willdigg's orders to exit the vehicle, which resulted in a violent struggle. The male subject attempted to pull a handgun from his side and stated "now I'm going to kill you". This statement forced Officer Schackne to fire at the subject, fatally wounding him and terminating the threat.
Both Officer Justin Schackne and Thomas Willdigg acted above and beyond the call of duty risking their lives for the life of another. Their quick-thinking actions and professionalism averted a possible life-threatening situation for both themselves and the twenty-two year old victim.
Shown in the attached photograph from left to right: Nassau County Detectives' Association President Thomas Willdigg, "Top Cop" Officer Thomas Willdigg, Nassau County Legislator Richard Nicolello, "Top Cop" Officer Justin Schackne, and Probation Department Supervisor John Willdigg.