February 8, 2010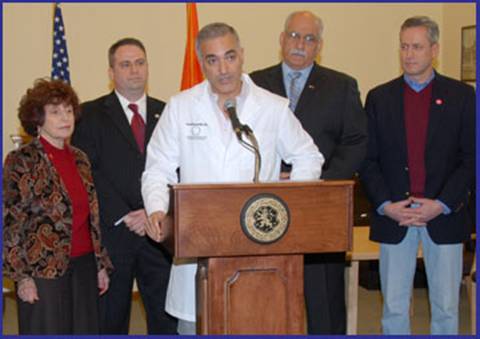 Nassau County Doctors Volunteer to Help Haiti
Legislator Richard Nicolello met Friday, February 5 with four surgeons from Nassau County who are volunteering and heading to Haiti to provide emergency medical assistance this weekend to those in critical condition. The doctors, from the Long Island Plastic Surgical Group, will be specializing in wound care to help avoid amputations.
Legislator Nicolello, who was also joined by Nassau County Health Committee Chairwoman and Legislator Rose Marie Walker and officials from the American Red Cross, held a news conference to honor these kind people. "Following the devastating earthquake in Haiti, we saw many generous Americans donate money and food to help the relief efforts," said Legislator Nicolello. "These surgeons are taking things a step further, and I'm proud to see residents of Nassau County doing everything they can to help."
In the attached photo shown from left to right are; Legislator Norma Gonsalves, Samuel Kille of the Nassau County chapter of the Red Cross, Dr. Kaveh Alizadeh (speaking) president of the Long Island Plastic Surgical Group, Legislator Dennis Dunne and Legislator Richard Nicolello.