March 15, 2010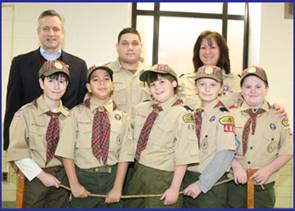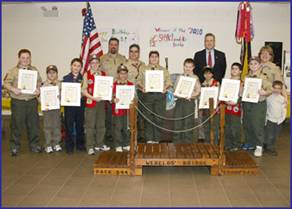 LOCAL SCOUTS HOST BLUE AND GOLD DINNERS
New Hyde Park's Cub Scout Packs 544 and 489 recently hosted their annual Blue and Gold Dinners, which commemorate the founding of the Boy Scouts of America. The two Packs continue to thrive and continue the tradition of providing the local boys with lessons in citizenship through involvement in the Boy Scouts of America.
On the first two weekends of February, friends, family, Scouting officials, local dignitaries and Cub Scouts from Packs 544 and 489 gathered for the festivities, which featured a "Bridging Ceremony" for Cub Scouts moving up to become Boy Scouts.
Shown in the front row of the photograph on the left are Pack 489 Webelos who "crossed the bridge" to become boy scouts: Daniel Celic, Andrew Grivas, Matthew D'Amico, Devan Barbieri, and Matthew Fitzgerald. Shown in the back row (l-r) are Legislator Nicolello, Assistant Cub Master Harry Ruiz, and Cub Master Joyce Dunn.
Shown in the photograph on the right are Legislator Nicolello along with Cub Master of Pack 544 Steve Gresafi, Webelos Den Leader Michael Di Sunno, and Barbara Di Sunno. Pack 544 Webelos are shown with Legislative Citations to commemorate their moving up to be boy scouts, including Gregory Schultz, Joseph Di Sunno, Kyle Waibel, Kevin Payne, Daniel McGuigan, Joseph Steves, Patrick Quintanilla, Nicolas Castelli, Andrew Cialdella, Eric Menoscal, Alex Menoscal, and Brandon McShane.