March 15, 2010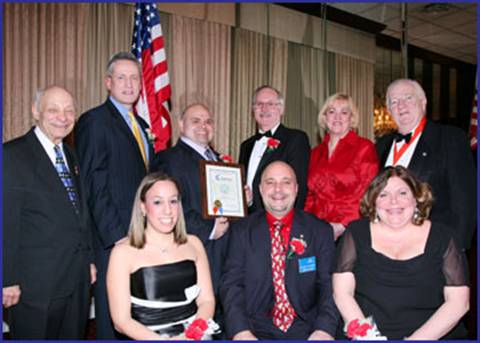 NEW HYDE PARK - FLORAL PARK KIWANIS CLUB
CELEBRATES 60 YEARS OF COMMUNITY SERVICE
The Kiwanis Club of New Hyde Park – Floral Park recently celebrated the 60th Anniversary of the creation of the NHP Club at a gala dinner at Koenig's in Floral Park. The evening was full of dancing to the great music of the band "Out of Touch," fine food and spirits, and the camaraderie that the Kiwanis Club is known for.
The NHP Kiwanis Club was founded in 1950, and was the sponsor of the Floral Park Kiwanis Club. The two clubs recently merged to better serve the community. Kiwanis is an organization dedicated to serving the community. Our local club particularly emphasizes support for young people. It sponsors the Key Club, Builders Club, and K-Kids in local schools, awards scholarships to students each year, and sends needy young people to Kamp Kiwanis. The club actively supports local youth athletic leagues, Salvation Army, food and clothing for the needy and other charitable causes.
The NHP-Floral Park Kiwanis Club welcomes anyone interested in volunteering to serve the Floral Park, NHP and GCP communities. Anyone interested in joining may stop down at a meeting or contact Club President Peter Ferello at ferello@msn.com or call 779-6164.The club meets at Charlie Brown's Steakhouse located at 2349 Jericho Turnpike, Garden City Park on the first Thursday of the month at 7 p.m. and at Koenig's Restaurant located at 86 South Tyson Avenue, Floral Park on the third Thursday of the month at 7 p.m.
Shown in the photo are: (Seated L-R) Chrissy Oliva, Publicity Coordinator and Special Events Chair; Treasurer Pat Farrell; and Secretary Donna Jaronczyk.
(Standing L-R) Past New York District Governor Ed McGowan; Past President & Legislator Rich Nicolello; President Pete Ferello; Governor David Booker; Immediate Past Governor Doreen Pellittieri; and Past Governor John Gridley.