March 24, 2010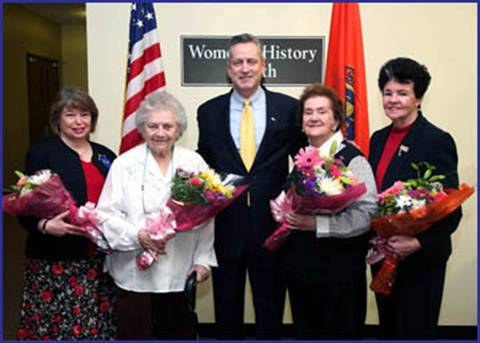 LEGISLATOR NICOLELLO HONORS
PRESIDENTS OF AMERICAN LEGION AUXILIARY
At the Nassau County Legislature's Women of Distinction Awards, Legislator Richard Nicolello honored five presidents (past and current) of the American Legion Auxiliary of Post 144 in Williston Park. Legislator Nicolello presented the awards to: Rosemary Wilenski (president 1985-1987, 1991-1993, & 2000-2002), Edna Karcher (president 1966/67, 1976/77, 1989/90, & 1990/91), Lucy Petrillo (president 1979/80, & 1995-1997), Kay Derby (president 2005-2009), and Ellen Randle (current president and also president from 2002-2005).
The American Legion Auxiliary is the largest patriotic women's service organization in the world. Each of the honorees donates their time and talent to provide educational opportunities for our children; support our troops and their families, and help our veterans though volunteerism in the community, legislative advocacy and assistance to veterans in need.
Legislator Nicolello stated: "Each of the honorees is a remarkable women of distinction and accomplishment, who has made a difference in the community, county and nation. On behalf of Nassau County, I proudly salute you for your distinguished service."
Shown in photo from left to right are: Edna Karcher, Rosemary Wilenski, Legislator Nicolello, Ellen Randle and Kay Derby.