March 24, 2010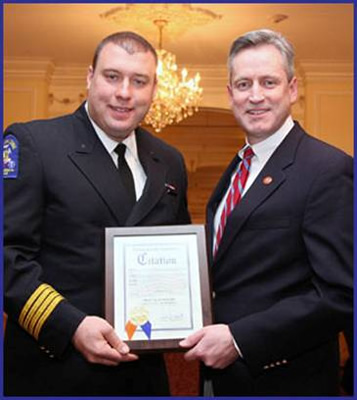 GARDEN CITY PARK FIRE DEPARTMENT SALUTES
EX-CHIEF WALSH AT ANNUAL INSTALLATION DINNER
Sean Walsh was honored for his dedicated service to the Garden City Park Fire Department at the Department's annual installation dinner. The men and women of the Department recognized Ex-Chief Walsh for his leadership, his dedication to the well-being of the members of the Department, and his commitment to protecting the health and safety of the residents.
Chief Peter Chimenti, Assistant Chiefs Rudnick, Green and Mirabile were installed at the dinner along with the company officers.
Shown in photograph: Legislator Rich Nicolello presents a Legislative Citation for distinguished service to Ex-Chief Walsh.