March 27, 2013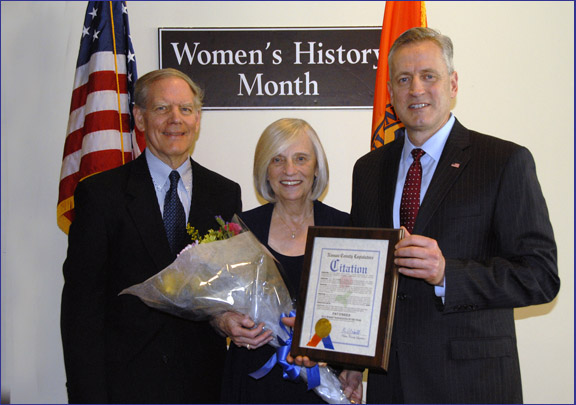 LEGISLATOR NICOLELLO HONORS MANHASSET RESIDENT PAT O'BRIEN
At the 16th Annual Nassau County Legislature's "Women of Distinction Awards", Legislator Richard Nicolello honored Manhasset resident, Pat O'Brien. Mrs. O'Brien was recognized for her dedicated service to our veterans, their families, and our troops overseas as well as the Manhasset community.
Mrs. O'Brien currently serves as the President of the Nassau County American Legion Auxiliary and is an active member of her local American Legion Auxiliary chapter. Through her leadership and the generous outpouring of support from fellow Manhasset Auxiliary members, the Manhasset American Legion Auxiliary "adopted" soldiers serving in Afghanistan and sent them over 300 care packages totaling over $30,000.
As President of the Nassau County American Legion Auxiliary, Pat has strongly supported multiple Veterans' projects including: the Hero Hunger Help Program which provides funds for homeless veterans returning from Iraq and Afghanistan; ACT Today! For Military Families which assists military children affected by autism; the HUD-VASH Project which focuses on the furnishing needs of our homeless veterans as they obtain HUD-VASH apartments; and Operation Purple Camps which raises funds to send children of the actively deployed to camp.
Mrs. O'Brien is also an active member of St. Mary's Parish and is involved in several Church based service groups.
Legislator Nicolello stated: "Pat is a wonderful example of a woman who achieves that most difficult balance of dedication to her family and service to the community. She is a tireless advocate for veterans, their families and active military members. I am proud to recognize her as a woman of distinction and accomplishment"
Pat and her husband Donald are the proud parents of Kelly and grandchildren Liliana and Danny.
Shown in the attached photo from left to right are: Donald O'Brien, Pat O'Brien, and Legislator Rich Nicolello.