March 28, 2011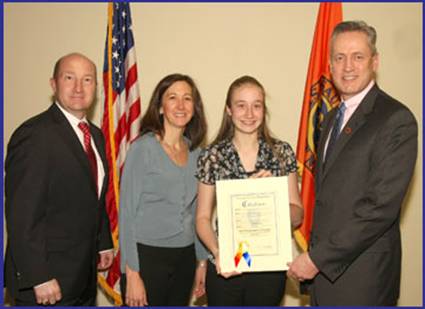 LEGISLATOR NICOLELLO HONORS MINEOLA STUDENT
& INTEL SEMIFINALIST, BETHANNE BARTSCHERER
At a recent meeting, the Nassau Legislature honored the young men and women from Nassau who had been selected as Intel Semifinalists. The honorees included a student from Mineola High School, senior Bethanne Bartscherer. Bethanne's scientific project has been recognized as among the most noteworthy in the nation. Legislator Richard Nicolello presented Bethanne with a Legislative citation and commended her on being the first Intel semifinalist from the Mineola School District.
Bethanne's project involved testing of the potency of various compounds in inhibiting the production of proteins that are released from cells as part of the inflammatory response. Working under the supervision of doctors at North Shore-LIJ, Bethanne tested new compounds on 3 different human cell lines which are often the sites of inflammation; lung, kidney, and brain cells. Numerous diseases, including lupus, and rheumatoid arthritis, are caused by an exaggerated inflammatory response, and the compounds that Bethanne tested may be used in the future to treat these diseases.
Shown in photo above, from left to right are: Joseph Bartscherer, Anne Bartscherer, Bethanne Bartscherer, and Legislator Rich Nicolello.
Shown in the photo below, from left to right are: Mineola High School Principal Ed Escobar, Bethanne Bartscherer, and Legislator Rich Nicolello.