April 4, 2012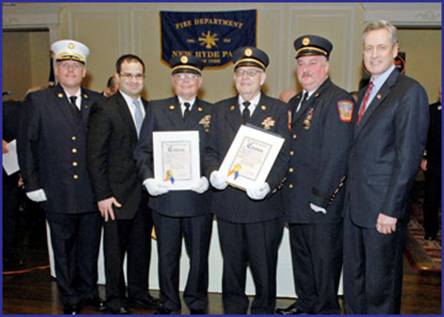 NEW HYDE PARK FIRE DEPARTMENT SALUTES
EX-CHIEF WILLERS AT ANNUAL INSTALLATION DINNER
John Willers was recently honored for his dedicated community service as Chief of the New Hyde Park Fire Department at the Department's annual installation dinner. The members of the Department recognized Ex-Chief Willers for his dedicated service to the community of New Hyde Park.
New Chief of the Department Robert Von Werne was installed during the evening's ceremonies.
The Fire Department also honored both Edgar Teepe and Robert Carlin as Honorary Chiefs for their 50 years of service as volunteer fire-fighters.
Shown in photograph, from left to right: Chief Robert Von Werne, New York State Assemblyman Edward Ra, Honorary Chief Edgar Teepe, Honorary Chief Robert Carlin, Ex-Chief John Willers, and Nassau County Legislator Rich Nicolello.