April 12, 2012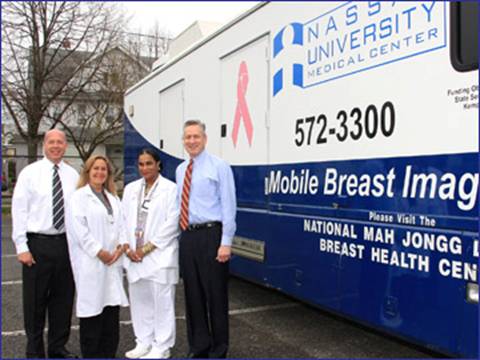 LEGISLATOR NICOLELLO BRINGS
MOBILE MAMMOGRAPHY VAN TO MINEOLA
Nassau County Legislator Richard Nicolello, Mineola Mayor Scott Strauss, and the Village Board teamed up to bring the Nassau University Medical Center's mobile mammography van to Mineola Village Hall for no-cost breast cancer screening for local residents.
The location for the van was provided by the Village of Mineola.
The Legislator's office handled the appointments, and worked with the medical professionals at the Health Care Corporation to ensure that all questions and concerns were addressed.
Shown in photo are (L-R): Mineola Mayor Scott Strauss, X-Ray Technicians Stella Harmon & Deborah Ciaravino, and Legislator Nicolello.