April 20, 2010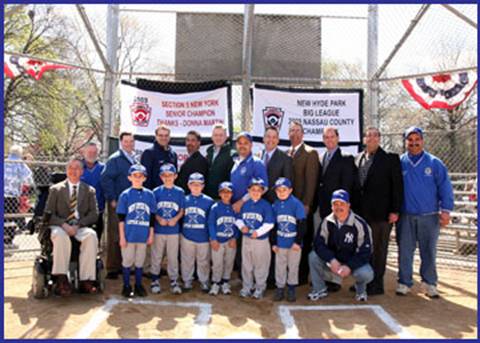 PLAY BALL! NEW HYDE PARK LITTLE LEAGUE OPENS 2010 SEASON
The New Hyde Park Little League recently opened the 2010 season with a parade and ceremony. The players, coaches and Little League officials were joined by Mayor Dan Petruccio, Village Trustees LoFaro, Barbieri and Copolla, Legislator Rich Nicolello, New York State Assemblyman Thomas McKevitt, New York State Senator Craig Johnson, and Town of North Hempstead Supervisor Jon Kaiman in celebrating the opening day festivities.
Legislator Nicolello and Trustee Barbieri both played in the NHP Little League while growing up, and were teammates on a team sponsored by Rayo Oil Co.
Shown in photo (L-R): Little League Board Member Vincent Grunert, Assemblyman Tom McKevitt, Senator Craig Johnson, President of the Little League Thomas Pellegrino, Legislator Rich Nicolello, NHP Village Clerk Pat Farrell, Supervisor Jon Kaiman, NHP Village Mayor Daniel Petruccio, NHP Trustee Robert Lofaro, NHP Trustee Richard Coppola Jr., Chief of Umpires Joe Fornataro, and the members of the R. Stutzmann & Son Funeral Home's Little League Team.