April 28, 2011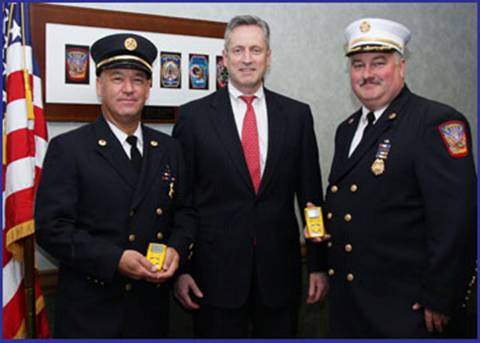 Legislator Nicolello Secures Funding for New Hyde Park Fire Department
Purchase of Life-Saving Equipment
Nassau County Legislator Rich Nicolello has secured $6,000 in community revitalization funds for the New Hyde Park Fire Department to purchase multi-gas detectors. The devices will be used to provide enhanced capability for firefighters in detecting hazardous gases at emergency scenes and save lives.
"These devices will assist our brave firefighters in their vital life-saving work," said Legislator Nicolello. "A fire or other emergency situations may include the presence of a number of different types of gases, many of which are invisible and odorless. The devices will enable our firefighters to quickly detect the presence of gases, which will allow them to take actions and make decisions that will save lives."
Shown in the photo above, from left to right are: New Hyde Park Fire Department Ex-Chief James Robinson, Legislator Nicolello, and New Hyde Park Fire Department Chief John Willers.