October 13, 2011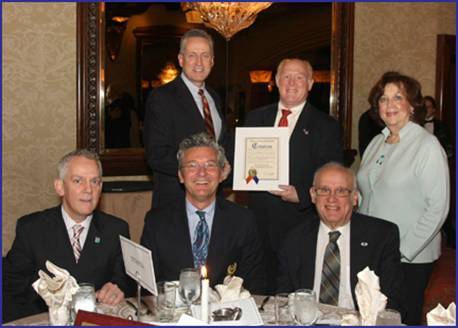 WILLIAM HAVRON RECOGNIZED AS SMALL BUSINESSPERSON OF THE YEAR
BY THE NASSAU COUNCIL OF CHAMBERS OF COMMERCE
The Nassau Council of Chambers of Commerce (NCCC) has recognized William Havron as the Mineola Chamber of Commerce small businessperson of the year. The award was presented at the NCCC's annual legislative breakfast. The Mineola Chamber of Commerce nominated William, who is a Financial Representative with Atlantic Partners, Financial Group.
In addition to being an active board member of the Mineola Chamber of Commerce, Mr. Havron is a member of the Marine Corps League, Knights of Columbus, and the Long Island Network Group. Mr. Havron believes in giving back to the community through volunteering his time to various organizations and has devoted countless hours in making the Mineola community the special place that it is.
In the attached photograph from left to right: Bill Green, Mineola Chamber of Commerce President Ray Sikorski, Nassau County Legislator Rich Nicolello, Small Businessperson of the Year William Havron, Robert Rosenthal, and Joy Wyler.