October 25, 2010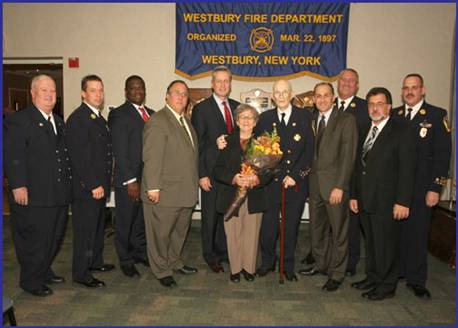 WESTBURY FIRE DEPARTMENT SALUTES EARL TOBIE FOR HIS 66 YEARS OF SERVICE
Earl Tobie was recently honored for his 66 years of dedicated service to the Westbury Fire Department and the Hose Company #1. The men and women of the Department recognized Tobie for his leadership, his dedication to the well-being of the members of the Department, and his commitment to protecting the health and safety of the residents.
Earl Tobie is currently very active with the Department as a regular attendee of Nassau County & New York State firematic organization meetings and is always eager to share his stories with newer members of the Department.
Shown in photograph from left to right are: Westbury Firefighter Tom Durnan, Westbury Fire Department Chief Patrick Cody, Village of Westbury Trustee Beaumont Jefferson, New York State Assemblyman Michael Montesano, Nassau County Legislator Richard Nicolello, Ms. Bernice Tobie, Honoree Earl Tobie, Village of Westbury Mayor Peter Cavallaro, 1st Assistant Chief Douglas Ingram, Village of Westbury Trustee Steven Conte, and 2nd Assistant Chief John Bartunek.