January 23, 2007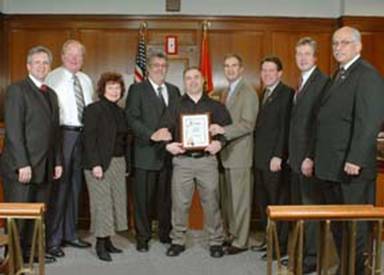 Legislators Award Local Hero Citation for Heroism
On Monday, January 22, 2007, members of the Nassau County Legislature bestowed a Citation for Heroism upon Franklin Square resident, Daniel Fitzpatrick, for his courageous actions which saved a woman's life.
While traveling home from an EMT training class, Mr. Fitzpatrick, a New York City Fire Department Emergency Medical Technician, was on the Subway platform at Flushing Avenue in Brooklyn on January 11, 2007 when he noticed that a woman on the platform appeared distraught and disoriented. Mr. Fitzpatrick began talking to the woman with the hopes of calming her down. However, as the next train approached the station, the woman began to move toward the tracks with the intent to jump in front of the train. Concerned for the woman's safety, Mr. Fitzpatrick dashed after the woman and pinned her down as the train passed through the station and stunned Subway passengers looked on.
Legislator Richard Nicolello (R - NHP) stated that "Daniel Fitzpatrick is a true hero and a role model for all Nassau residents. He placed his own life in danger to save the life of another. I am proud to join with my colleagues on the Legislature to honor this brave man."
Shown in photo presenting the citation to Mr. Fitzpatrick are (left to right): Legislators Mangano, Schmitt, Gonsalves, Ciotti, Muscarella, Becker, Nicolello, and Dunne.