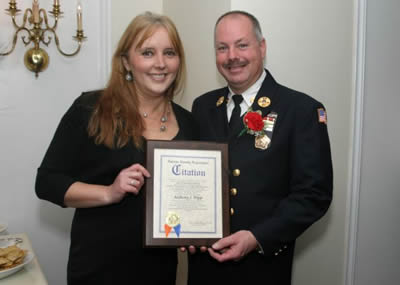 Nassau County Legislator Delia DeRiggi-Whitton presenting a citation to Chief Anthony Tripp.
Legislator DeRiggi-Whitton Honors GCVFD
Nassau County Legislator presented citations to two of Glen Cove's bravest recently. She honored outgoing Glen Cove Volunteer Fire Department Chief Tony Tripp and incoming Chief Incoming Chief Rodni Leftwich at the installation dinner for the fire department's 2012 officers. The dinner took place at the Waterview Club in Bayville.
Legislator DeRiggi-Whitton thanked all the firefighters, saying, "Your bravery and dedication has saved many lives and touched so many families. On behalf of all of Glen Cove, I offer you our sincere gratitude."