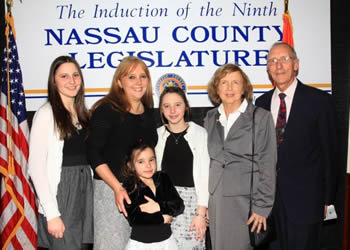 Nassau County Legislator DeRiggi-Whitton pictured with her family at the inauguration.
Delia DeRiggi-Whitton Sworn in as Nassau County Legislator
On Monday, Jan. 2, Delia DeRiggi-Whitton was sworn in as the Legislator for Nassau County's 18th Legislative District, which encompasses Glen Cove, Sea Cliff, Bayville, Locust Valley, Brookville, Glen Head, Greenvale, Jericho and Old Westbury.
DeRiggi-Whitton is serving on the Finance Committee, Health and Social Services Committee, Economic and Community Development and Labor Committee, and is the Ranking Member of the Towns, Villages and Cities Committee.
"I am very grateful that I was chosen to represent this district, and promise that I will diligently serve each of you," she said.
Before being elected to the Nassau County Legislature, De Riggi-Whitton served two terms as a member of the Glen Cove City Council. Long active in senior affairs, she was the Council's liaison to the City's Senior Center and was a member of the City's Senior Advisory Board. She also began the Birthday Rose celebration at Senior Day events and is a member of the Sage Golf Outing Commission.
Legislator De Riggi-Whitton brings to the County a belief in financial oversight and fiscal responsibility. In Glen Cove, she worked to ensure that the city budget was properly balanced, she met regularly with department heads to foster budget compliance, and she fought hard against tax increases.
De Riggi-Whitton has long been committed to improving the environment. While serving the City of Glen Cove, she was part of an initiative to clean up and revitalize deteriorated, polluted waterfront lands.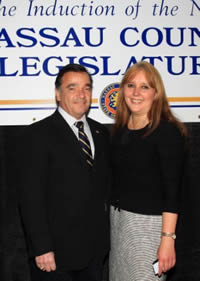 DeRiggi-Whitton with Glen Cove City Councilman Anthony Jimenez.

As a Legislator, she remains firmly committed to protecting our natural areas and reversing pollution and contamination.
Legislator De Riggi-Whitton has been deeply involved in the housing issues of the 18th Legislative District since her days on the Glen Cove City Council. She has maintained a "hands-on" relationship with local tenants and building owners to address concerns such as fire safety, leakage, landscape beautification and lighting. She has worked with local officials to resolve many problems and elevate buildings to higher standards.
Dedicated to assisting our youth, Legislator De Riggi-Whitton helped to establish the Sidney Canarick Foundation for Glen Cove, Ltd. This worthy organization develops various sports programs to engage City youth.
De Riggi-Whitton participates in many community groups. As a member of the Diabetes Research Institute Foundation and a member of the board of DRI, she helped to secure over $350,000 in grants. She has led many fundraising efforts to benefit the Foundation as well as other charities.
She is a member of the Sons of Italy and Kiwanis.
Delia De Riggi-Whitton is a consultant to the New York Deferred Exchange Corporation as well as a non-profit company. A 1986 Glen Cove High School graduate, she became the school's first all-county softball pitcher. She gained added recognition by pitching a no-hitter to lead her team to the 1985 county championship. A feat that has not been duplicated. A graduate of Hofstra University, Ms De Riggi-Whitton has three daughters and is the proud daughter of Hon. Donald De Riggi and Dr. Mildred De Riggi.