January 5, 2010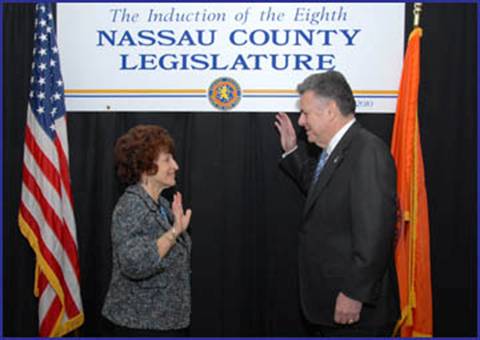 Legislator Norma Gonsalves Sworn in As Alternate Deputy Presiding Officer
of the Nassau County Legislature
On Monday, January 4, 2010, the new Nassau County Legislature was inducted at the Cradle of Aviation Museum in Garden City. Nassau County Legislator Norma L. Gonsalves was then selected as the new Alternate Deputy Presiding Officer of the 19 member Legislature, which is now comprised of 11 Republicans and 8 Democrats.
"I thank all the voters for giving me the opportunity to serve as Alternate Deputy Presiding Officer and I am so proud to continue to represent my home District which includes, East Meadow, Salisbury, North Merrick and portions of Levittown and North Bellmore," said Legislator Gonsalves.
The Legislature held its first meeting of 2010 on Monday, January 4th and approved the new Rules of the Legislature which include measures to streamline the legislative process, reduce waiting times for speakers and improve scrutiny on legislative items.
"We've inherited a deficit of dismal proportions and a budget reliant on one-shots, borrowing and tax increases. I am very anxious to begin resolving this imbalance without imposing any new taxes or fees on the overburdened taxpayers of this county," said the Alternate Deputy Presiding Officer.
Alternate Deputy Presiding Officer Gonsalves will serve as Chair of the Planning, Development & the Environment Committee, Vice-Chair of the Minority Affairs Committee and as a member of the Public Safety Committee and Health & Social Services Committee.
Pictured: Alternate Deputy Presiding Officer Legislator Norma Gonsalves sworn in by Congressman Peter King.