March 2, 2011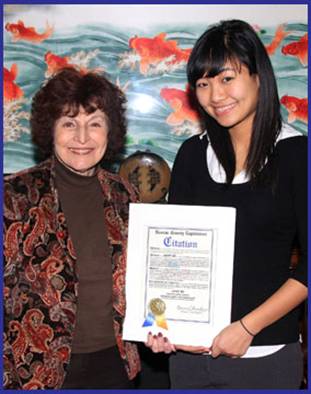 LEGISLATOR GONSALVES HONORS INTEL SEMI-FINALIST
Alternate Deputy Presiding Officer Nassau County Legislator Norma L. Gonsalves recently recognized Miss Jenny Wu, a senior at Sanford H. Calhoun Clarke High School, Merrick with a Nassau County Legislative Citation for her achievement as a semi-finalist in the National Intel Science Talent Search Program annual competition. Jenny's project, "Synthesis: Biological Evaluation and Potential Synergy of Taxoid SBT 1214 and Topotecan in Tumor Targeting Drug Conjugations Bearing Duel Warheads." Miss Wu developed a drug combination that delivers strong doses of medication directly to diseased cells without harming healthy ones. This drug combination has been shown to be effective on breast cancer cells.
"It has been a long time since I have had a student in my district achieve Intel-Semi Finalist. Jenny has not only made her parents proud but she has made me proud as well. I wish her continued success at Yale University in the fall," said Gonsalves.
Pictured (l-r): Alternate Deputy Presiding Officer Legislator Norma Gonsalves and Miss Jenny Wu.