April 6, 2011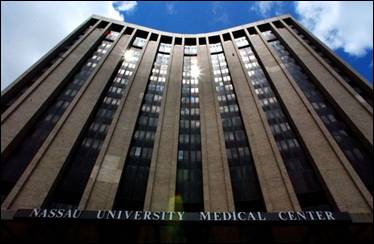 NUMC AND LEGISLATOR GONSALVES TO ANNOUNCE
GRAND OPENING OF VETERANS HEALTH CLINIC
Alternate Deputy Presiding Officer Norma Gonsalves and the Nassau University Medical Center invite you to celebrate the unveiling of the new VA Clinic of East Meadow at NUMC. This new Veterans Clinic, which has been over a decade in the making, will provide state-of-the-art medical care for Nassau County's veterans.
"Our veterans provided invaluable service to all of us when called upon by our country," said Legislator Gonsalves. "Now is our opportunity to assist our veterans. The new health clinic located at the NUMC campus will provide the quality healthcare that our veterans deserve." The Mental Health section of the Clinic opened on March 29, 2011, and the Primary Care Clinic opened March 30, 2011.
Nassau County Executive Edward Mangano will be on hand for the grand opening and to personally thank the veterans for their dedicated service. Legislator Gonsalves will offer special thanks to all those who helped to make this new clinic a reality, including NUMC President and CEO Arthur Gianelli for donating the 11,000 square foot building on the NUMC campus for the new clinic location. The new clinic contains a state-of-the-art triage center, 14 new exam rooms, and exemplary doctors dedicated solely to Nassau veterans. The clinic is expected to serve 5,000 veterans every year.
Please join Legislator Gonsalves for the grand opening ceremony on
Friday, April 8th, 2011 at 11:00 AM
at the Nassau University Medical Center's Q Building.
To get to the building, use the Hempstead Turnpike Entrance of NUMC, proceed past the Emergency Department and Building S, make a left on Third Street, and the Q Building is on the left side of the street.