August 12, 2011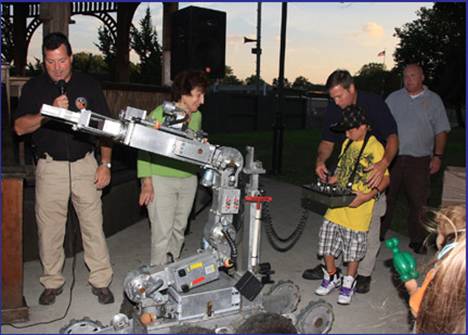 LEGISLATOR NORMA GONSALVES SPONSORS 2011 NATIONAL NIGHT OUT
The "28th Annual National Night Out" (NNO), a unique crime/drug prevention event, recently took place at the Town Square, Veteran's Memorial Park, East Meadow Avenue and Prospect Avenue, East Meadow.
The annual event was sponsored by Alternate Deputy Presiding Officer Legislator Norma L. Gonsalves and Nassau County Acting Police Commissioner Thomas C. Krumpter together with the First & Third Police Precincts and the Council of East Meadow Community Organizations (CEMCO).
The program was geared towards "Child Safety." The event featured the Nassau County Police Department Young Explorer Program, R.E.A.C.H. (Return Every Adult & Child Home) Program, Information on Megan's Law, Child I.D. Kits and a demonstration of the Nassau County Arson Robot.
Educational literature on Child Safety, Personal and Property Safety, Internet Safety and Drug Prevention was available. The event concluded with a candle lighting ceremony.
Pictured (l-r): Det. Peter McGinn, Leg. Gonsalves, young resident and Det. Michael Bartlett demonstrating the arson robot.