August 19, 2013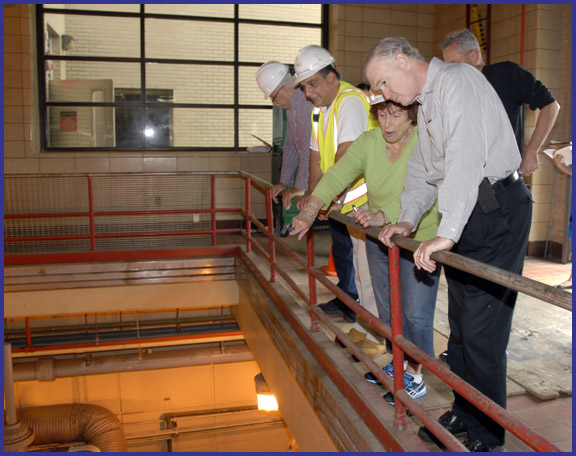 Legislator Kopel Tours Sandy Ravaged Sewage Treatment Plant
Nassau County Legislator Howard Kopel and his fellow Republican Legislators once again toured the storm-ravaged Bay Park Sewage Treatment Plant to review the damage that still needs to be addressed, 9 months after Superstorm Sandy.
"Thanks to the obstruction of the Democratic legislators, we have been in a gridlock over funding the repairs to this plant," said Legislator Kopel. "The partial funding the Democrats have provided is just not enough. There is simply too much work still to be done."
The Bay Park Sewage Treatment Plant, which services 500,000 Nassau residents, was shut down for two days after 9 feet of saltwater entered the facility during Sandy.The greatest damage was done to the plant's electrical system which was completely submerged by seawater and continues to corrode. To date, the plant is still operating on emergency back-up generators at a cost of $1 million per month.
To fix this vital infrastructure and to prevent damage from future severe weather, County Executive Mangano has introduced a Capital Improvement Plan to invest $722 million in the sewage plant in Bay Park, as well as its sister plant at Cedar Creek. The proposed sewer rehabilitation plan is vital to the reconstruction of these facilities and is eligible for up to 90% reimbursement from the Federal Emergency Management Administration ("FEMA"). So far, the Democrats have approved barely a third of the requested investment, denying funding for critical improvements such as odor control, construction of a storm barrier and replacement of the electrical system.
"We will never forget the devastation from Sandy, and many of us are still suffering 9 months later," said Legislator Kopel. "This plant is still in dire need of repair and should not be delayed because of petty politics. I urge the entire Legislature to vote 'yes' to the funding now."
Shown in photo: Legislator Kopel and Presiding Officer Gonsalves with a plant engineer and other legislators viewing the "pump room" which was submerged with sea water during Superstorm Sandy.