September 22, 2010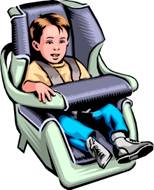 CHILD CAR SEAT SAFETY CHECK
Tuesday, Oct. 5th 9:30 AM to 12:30 PM
East Meadow Public Library - 1886 Front St., East Meadow
Traffic Safety Educator Chris Mistron from the Nassau County Traffic and Safety Board will be available at the East Meadow Public Library, located at 1886 Front Street in East Meadow, to inspect your child car seats for proper installation and security.
PLEASE CALL TO MAKE YOUR APPOINTMENT TODAY!
Child car seats are required for children under the age of seven.
If you would like to make an appointment to have your child car seat installation checked, please call
Legislator Gonsalves' office at 516-571-6213