February 27 , 2013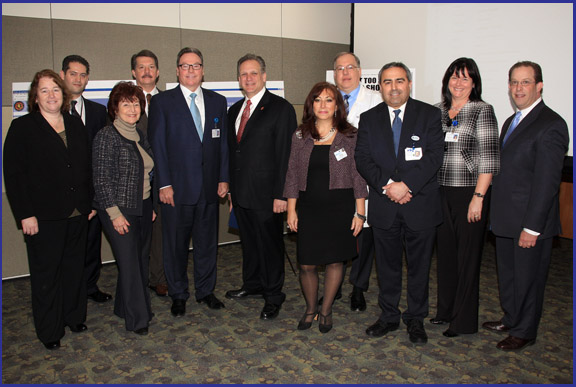 Gonsalves & Mangano Assist Local Hospitals with TOOL to COMBAT Critical Drug Shortage
Calls on Federal Food and the Drug Administration to Address Crisis
Nassau County Executive Edward P. Mangano, along with Presiding Officer Norma Gonsalves and pharmacy directors from three local hospitals, today urged the Food and the Drug Administration (FDA) to step up their efforts to address the nationwide problem of critical drug shortages which is compromising patient care throughout the nation.
Hundreds of drugs, including antibiotics, painkillers and cancer medications, have gone in and out of short supply in recent years, forcing hospitals and ambulances to develop strict criteria and prioritize accordingly critical drugs that are in short supply, sometimes having to decide which patients get the preferred drug and which ones gets the, sometimes less effective, substitute.
"Nationwide drug shortages have plagued and even compromised, patient care in Nassau County, as well as in the rest of the country, for the last several years," County Executive Mangano said. "Solutions must be found and found soon. Lives are at risk."
"I urge the FDA to make this issue a top priority and do whatever it takes to get to the root of the problem – whether it's manufacturing and contamination problems, plant shutdowns, fewer manufacturers or lower profit issues – so it does not continue to threaten people's health and well-being."
"To assist residents and local hospitals, Presiding Officer Gonsalves and I directed the Nassau County IT Department to create this powerful tool for hospital pharmacists to communicate with other healthcare systems. With a few key strokes, hospital pharmacists can survey each medical facility and determine whether a particular drug is available. This system goes a long way toward saving time and saving lives."
At Winthrop University Hospital, County Executive Mangano unveiled a new online application that helps link local hospitals with the medications that are in demand. Under this simplified drop down menu system, hospital pharmacists submit a request for the needed medication and dosage to the inboxes of Pharmacy Directors at 14 local medical facilities with the click of a mouse. The facilities, in turn, respond with an "offer" or a "partial offer" or no response if they do not have the drug available.
"This innovative program has created an open line of communication between county hospitals and other medical facilities," said Presiding Officer Gonsalves. "Health systems will be able to allocate medications in times of shortage, as well as when they have an over-abundance. I am very pleased with the expertise of our IT staff and am thankful to them for helping our residents."
Hospital Pharmacy Directors, who recently participated in a demonstration of the system, say not having access to the medication patients need can have devastating consequences; including resulting in relapses in some cancer patients. They applauded Mangano's efforts to get to the root of the problem.
This nationwide shortage trickles down from hospitals to the ambulances that are transporting patients to health care facilities, as the facilities replenish the stock of medications on the ambulances, as needed.
Nassau County Health Commissioner Dr. Lawrence Eisenstein stated, "I applaud the partnership between Nassau County government and the outstanding medical facilities that exist throughout the County. This groundbreaking technological initiative creates an efficient and extremely beneficial resource for the residents of Nassau County."
Brian R. Malone, Director of Pharmaceutical Services at Winthrop-University Hospital in Mineola said the County's IT application will "facilitate an efficient communication process that will assist our hospital pharmacy directors with timely solutions dealing with the medication shortage challenges and needs."
Marcelle Levy-Santoro, Administrator of Pharmacy Services at NUMC in East Meadow concurred. "While it would take us several hours to make many calls in times of emergency, now we can communication with each other instantly and are able to share information on availability of medication. This is truly a great endeavor that keeps pharmacy directors in touch with each other so they can help each other."
Mark Macchia, Associate Director of Pharmacy at Mercy Medical Center in Rockville Centre applauded these efforts in stating, "It expands the pool," he said. "It's innovative, fantastic and timely."
Pictured: Nassau County IT Programmer Debbie Jackson, Nassau Chief Information Officer Ed Eisenstein, Nassau Presiding Officer Norma Gonsalves, Nassau Deputy County Executive Dr. Victor Politi, Winthrop Hospital President & Chief Executive Officer John Collins, County Executive Edward Mangano, NUMC Pharmacy Administrator Marcelle Levy-Santoro, Winthrop Hospital Pharmacy Director Brian Malone, Mercy Hospital Pharmacy Director Mark Macchia, Patient Care Service Representative Maureen Gaffney, and Nassau Commissioner of Health Dr. Lawrence E. Eisenstein, MD, FACP.