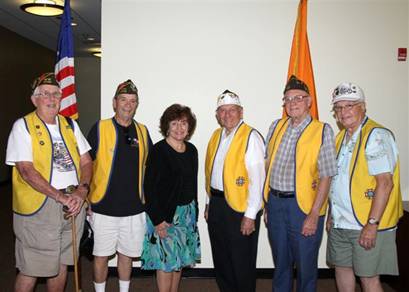 GONSALVES ANNOUNCES LEASE FOR VETERANS CLINIC AT
NASSAU UNIVERSITY MEDICAL CENTER
After a long pursuit in getting a Veterans Clinic at Nassau University Medical Center, East Meadow, Legislator Gonsalves (R-East Meadow) recently announced that the lease agreement between the Nassau Health Care Corporation and Nassau County was approved. Commander Salvatore Pellegrino and members of East Meadow Veterans of Foreign Wars Post 2736 were present to hear the long awaited news. They expressed their extreme gratitude to all who made it possible.
Legislator Gonsalves said, "The Veterans of Nassau County deserve a place close to home to address their medical needs." Gonsalves worked with Nassau Health Care Corporation CEO Art Gianelli, his staff, Director of Nassau County Veterans Affairs Ed Aulman and the Northport Veterans Administration and the Nassau County Department of Real Estate in achieving this goal. "It may have taken a long time to happen but it is said that anything worthwhile is worth the wait." Gonsalves said that the construction will go forward at Building Q at the Medical Center for the clinic and should be opened by February 2010.
Leg. Gonsalves (center) pictured with members of VFW Post 2736 Otto H. Jensen, Steven Gismondi, Commander Salvatore Pellegrino, Robert E. Herrmann and Albert Lusardi.