February 2, 2007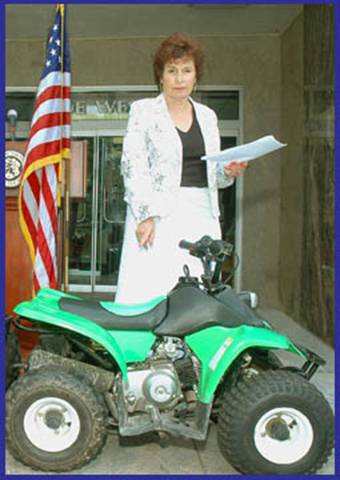 Nassau County ATV Law Takes Effect February 8th
Nassau County Legislator Norma L. Gonsalves co-sponsored a new law to protect the health, safety and welfare of Nassau County residents by imposing stricter limits on the usage of off-road vehicles. Riding off-road vehicles, such as all-terrain vehicles (ATVs), motorized scooters and pocket bikes, can be a fun and exciting sport. However, if operated in an unsafe manner or in the wrong locations, off-road vehicles threaten the safety of riders, pedestrians and the environment.
An article in Newsday on January 23, 2007, highlighted Suffolk County's fight to enforce its laws regulating the use of off-road vehicles. Nassau County is also very concerned about the deleterious effects of unrestrained off-road vehicle usage. In fact, Legislator Gonsalves is a vehement supporter of a new law which takes effect on February 8, 2007 and addresses the many concerns voiced by Nassau County residents with regards to ATVs and other off-road vehicles.
Legislator Gonsalves stated, "ATV usage at shopping center parking lots, school yards and public parks must be controlled in order to protect the safety of our youngsters. It is imperative that the purchasers and sellers of off-road vehicles are informed of the County laws restricting the usage of ATVs. Knowledge equals power and, more importantly, safety."
Nassau County's law is called the "Mark Sattler Law" in memory of Mark Sattler, a 12 year old boy from Levittown who died in an accident involving an ATV on April 29, 2005.
The Mark Sattler Law makes it illegal to operate off-road vehicles upon any highway, shopping center parking area, parking lot, sidewalk, street or any other public area within Nassau County, and requires that an operator of an ATV obtain written consent to ride on anyone else's private property. The law also increases penalties for violations and authorizes seizure and impoundment of ATVs, off-road motorcycles, motorized scooters or pocket bikes which are being illegally operated.
To further address the concerns of Nassau County residents and preserve their safety, the Mark Sattler Law also contains truth-in-selling and truth-in-advertising requirements. Beginning February 8, 2007, sellers of off-road vehicles must provide copies of the County and State laws regulating the use of off-road vehicles to buyers at the point of purchase, and buyers must sign an acknowledgment of receipt of the laws which shall be retained by the sellers for five years. The Sellers must also post an announcement of the County's restrictions including the following statement, "The operation of All Terrain Vehicles, motorized scooters, off-highway motorcycles, and pocket bikes is prohibited on Nassau County property." Additionally, such a statement must be made in all printed advertisements placed by the sellers of ATVs.
Says Legislator Gonsalves, "The loss of Mark Sattler was, and still is, devastating to his family and his community. I am committed to making sure that all riders of off-road vehicles are informed of the proper usage of these vehicles and pedestrians are protected from the dangers these vehicles pose. This law is powerful and uncompromising, and I think it will save lives."
If you have any questions, comments or concerns about the Mark Sattler Law or off-road vehicle usage in your area, please contact Legislator Gonsalves at 516-571-6213.