August 27, 2007
Legislator Gonsalves Approves New
Long Island Regional Planning Council
Nassau County Legislator Norma L. Gonsalves recently cast her vote in favor of reorganizing and strengthening the Long Island Regional Planning Board. The current Board will be renamed as the Long Island Regional Planning Council. The Council will now include municipal officials which will give municipalities greater input in regional planning and will also assist the Council in competing for state and federal grants.
The newly reenergized Council will now focus on speaking for the collective well-being of Nassau and Suffolk Counties, consider the relationship of the two counties with New York City and the greater metropolitan area, and advocate a coordinated approach to land use issues facing our region. The new Council will also become a source for innovative planning solutions.
"As Long Island continues to build and grow, it is important to establish one body that can monitor and maximize this growth in order to ensure that Nassau and Suffolk counties continue to stay ahead of modern trends while retaining their suburban character," said Legislator Gonsalves.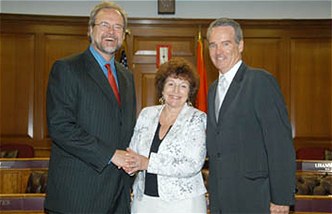 Pictured, left to right, are: LIRPC Executive Director Michael White, Legislator Gonsalves and LIRPC Vice Chairman John Cameron