December 4, 2007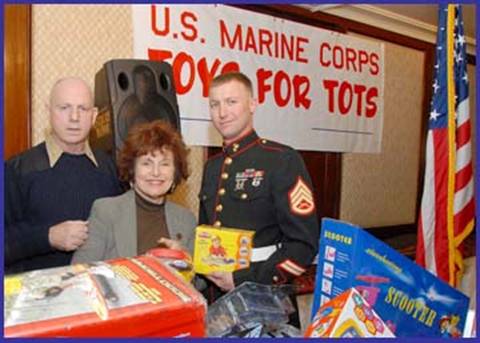 Pictured: Major Chuck Kilbride, Legislator Gonsalves and Staff Sgt. Jason Truscott, 2nd Battalion 25th Marines.
Legislator Gonsalves Encourages all to Donate to Toys for Tots
Nassau County Legislator Norma L. Gonsalves joined with the United Stated Marine Corps 2nd Battalion to make her annual toy donation to the Marine Toys for Tots Program. Under the direction of Major Chuck Kilbride, this year marks the 60th year that the Toys for Tots Program has collected and distributed toys to needy children nationwide. In 2006, the Marines and volunteers distributed over 19.2 million toys to 7.6 million needy children.
"As a mother and a grandmother, I know the joy a toy can bring to a young child. I look forward to participating in the Toys for Tots Program every year so that I can bring a smile to at least one child's face on Christmas. I encourage all to make a donation or volunteer for this very worthy cause," said Legislator Gonsalves.
Please visit www.toysfortots.org to find a donation location near you. Happy Holidays!