April 21, 2008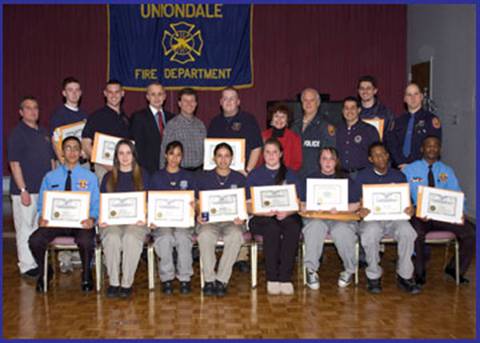 Legislator Gonsalves Attends
Police Explorers Promotion Ceremony
Legislator Gonsalves was proud to participate in the Explorers Third Annual Promotion Ceremony. In a special presentation, several Explorers were promoted to the ranks they earned. "The promotions came as a complete surprise to the Explorers," said Legislator Gonsalves. "Based on the Explorers accomplishments, it was no wonder that their promotions were well deserved."
First Precinct Inspector Rick Capece spearheaded the Explorers Program in Nassau County. He, together with Police Officers Daniel Johannessen and Glenn Neuman have successfully involved many young people in pursuing the program.
Award recipients were as follows:
Outstanding Explorer Rookie of 2007 Year, Stephen Matos
Most Dedicated Explorer 2007, Brandon Griffin
Special Service Award 2007, Jaclynn Vogel
Completion of the New York City Law Enforcement Exploring Leadership:
Academy 2007:
Sandy Carrillos, Brandon Griffin and Jaclynn Vogel.
Promotions were as follows:
Rank of Explorer Sergeant - Alyssa Clifton, Scott Rodriguez and Yuliya Semenova.
Rank of Explorer Lieutenant – Sandy Carrillos and Kenneth Seamen
Rank of Explorer Captain – Timmy Beuth and Ian Roth
Rank of Explorer Inspector – Leslie Quintanilla
Rank of Explorer Chief – Jason Williams
Pictured are: Stephen Matos, Yuliya Semenova, Brandon Griffin, Kenneth Seaman, Jaclynn Vogel, Jason Williams, Sandy Carrillos, Leslie Quintanilla, Alyssa Clifton, Ian Roth, Scott Rodriguez, Timmy Beuth, P.O. Daniel Johannessen, Hempstead Town Clerk Mark Bonilla, First Precinct Inspector Rick Capece, Legislator Norma Gonsalves, Legislator David Denenberg, Nassau County Police Commissioner Lawrence Mulvey, and P.O. Glenn Neuman.