January 5, 2010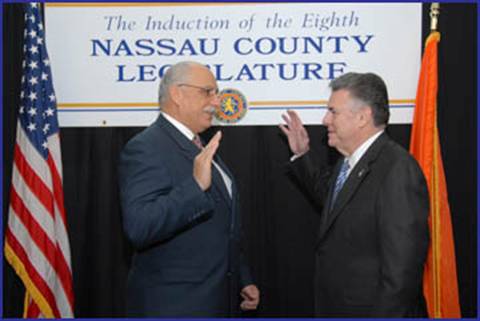 NASSAU COUNTY LEGISLATOR DUNNE SWORN IN FOR 8TH TERM
Nassau County Legislator Dennis Dunne, Sr. was recently sworn in for an eighth term as representative of the 15th L.D., a position he has held since the inception of the Legislature in 1996. The installation of Legislator Dunne and his 18 colleagues was held at the Nassau County Cradle of Aviation and was attended by religious leaders, dignitaries and elected officials from national, state and local government.
Legislator Dunne stated, "I extend my heartfelt thanks to the residents of the 15th L.D. for giving me the privilege of serving as their representative in the County Legislature. I believe that serving the public is the highest civic calling in our society. I will continue to do all I can to make County government more effective and responsive and to make sure that vital government services are available to citizens who need them. The next two years will be a time of great challenges, but also great opportunities. Most importantly, we must continue to make the difficult decisions to reform Nassau County in order to restore the County's fiscal health, and create the foundation for a strong, stabile County government well into the next decade."
Legislator Dunne was also appointed as the Chairman of the Legislature's Public Safety Committee, Vice Chairman of the Planning, Development & the Environment Committee, and as a member of the Rules Committee, the Minority Affairs Committee, and the Government Services & Operations Committee.
Pictured is Legislator Dunne being sworn in by U.S. Congressman Peter King.