April 4, 2012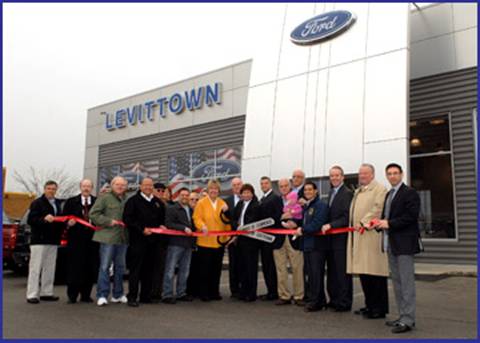 New Ford Dealership Opens in Levittown
Nassau County Legislator Dennis Dunne, Sr. attended the Grand Opening of Levittown Ford, located at 3195 Hempstead Turnpike in Levittown.
"We are happy to welcome this new business to the Levittown Community and wish them much success", said Legislator Dunne.
Shown in photo: Levittown Ford owners Randy Sporn and Joel Sporn are joined by Levittown Chamber of Commerce Members, Dean Baer, Donald Patrone, Thomas Dilorio, Bob Keonig, Ann Torcivia, Tom Gatto, Susan McCormack and Kevin Regan, Levittown Ford employees Keith Donnelly and Bill DiMaio, Hempstead Councilman Gary Hudes, Hempstead Supervisor Kate Murray, Legislator Joe Belesi, Legislator Dunne, Hempstead Town Clerk Mark Bonilla, Hempstead Town Receiver of Taxes Don Clavin.