June 27, 2013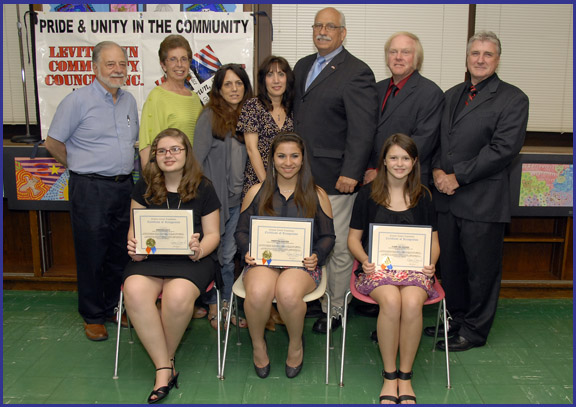 Legislator Dunne Presents Certificates to the
Levittown Community Council's Junior Volunteers of the Year
Nassau County Legislator Dennis Dunne, Sr. was delighted to present certificates of recognition to three deserving young ladies from local middle schools.
Clare Del Grosso (seated, far right) was selected by the Levittown Community Council as their Junior Volunteer of the Year. Jennifer Daly and Christina Ragusa (seated, left and center, respectively) were honored as runner ups for the award.
Pictured standing from left to right are, Mauro Cassano, Louise Cassano, Mary Kay Ross, Pat Patane, Legislator Dunne, Bob Koenig, and Tom Kohlman.