July 11, 2013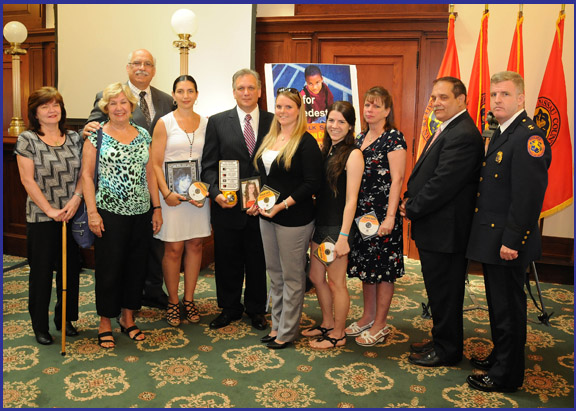 Legislator Dunne and County Executive Mangano
Announce Launch of Pedestrian Safety Video
Nassau County Legislator Dennis Dunne, Sr. joined with County Executive Ed Mangano to announce the debut of a public service video as part of Nassau County's "Walk Safe Campaign," which aims to increase safety and awareness both for pedestrians crossing busy streets and for the drivers expected to yield to them at crosswalks. The video, produced by film students from Long Island University, features the stories of three teens who died after being struck while crossing Hempstead Turnpike and Sunrise highway over a period of 5 years.
The importance of pedestrian safety was highlighted after three high school students from Levittown were killed while crossing Hempstead Turnpike. Along with the State of New York, Nassau County completed several pedestrian safety improvements to Hempstead Turnpike and other dangerous roadways. While statistics indicate that 13 pedestrian fatalities occurred on Hempstead Turnpike between 2009 and 2011, no pedestrians have died crossing Hempstead Turnpike in the past year since the Walk Safe Campaign was launched.
"The Levittown community has been devastated by these tragedies and no other community should have to go through this pain," said Legislator Dunne. "Educating the public on this issue is critical. This video is a step towards increasing public awareness of pedestrian safety," added Dunne.

For more information or to reserve the video for viewing, please contact the Nassau County Traffic Safety at (516) 571-6808. To view the video online, go to http://www.youtube.com/watch?v=t5TRY1uA1WA
Pictured: Marge Lee of DEDICATEDD; Cindy Brown of the Nassau County Office of Traffic Safety; Legislator Dennis Dunne; Sandi Vega, mother of Brittany Vega who was killed crossing Sunrise Highway in Wantagh; Nassau County Executive Edward P. Mangano; Kelli-Anne Davis; Amanda Davis and Coleen Clarke, the sisters and mother of Lauren Emily Davis who was killed crossing Hempstead Turnpike; Chris Mistron Nassau County Director of Traffic Safety; and Inspector Delargy of the Nassau County Police Department.