August 12, 2011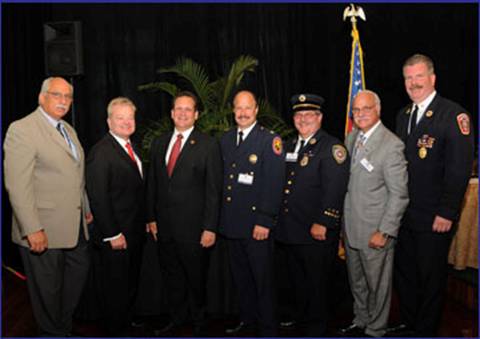 Legislator Dunne Hosts Nassau's 1st Annual Emergency Services Summit
Nassau County Legislator Dennis Dunne, Sr. was proud to host the 1st Annual Emergency Services Summit recently, along with Legislator Joseph Belesi and Nassau County Executive Ed Mangano.
The purpose of the summit was to promote better inter-agency cooperation on Long Island in times of crisis for federal, state and local emergency services groups.
"As Chairman of the Public Safety Committee, I thought it was very important that we call this summit," said Legislator Dunne. "In an emergency situation or crisis there is very little time to react. Preparedness is key."
Attendees included members of the Nassau and Suffolk Police Departments, Firefighters, EMTs, medical professionals and elected officials. The summit featured speakers, vendors, literature, presentations, and other methods to increase Nassau County's preparedness in the event of an emergency.
Shown in photo, from left to right: Legislator Dunne, Second Deputy Commissioner of Nassau County Police William Flanagan, Nassau County Executive Edward P. Mangano, Deputy Inspector of the Bureau of Special Operations Robert Bressingham, Nassau County Fire Commissioner Robert Cribbin, Nassau County Legislator Joseph Belesi and Executive Director of the Freeport Fire Department Raymond F. Maguire.