September 10, 2013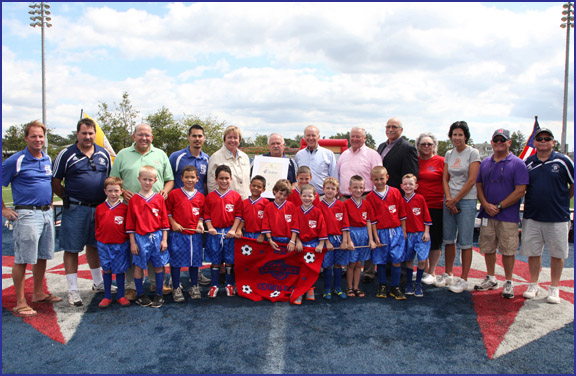 Levittown Seawolves Soccer Club Kicks Off New Season
Nassau County Legislator Dennis Dunne Sr. recently participated in the Levittown Seawolves Soccer Club Annual Opening Day Ceremony at General Douglas MacArthur High School in Levittown.
Shown in photo, back row: Levittown Schools Athletic Director Keith Schneider, Seawolves Coach Chris Gregory, Town of Hempstead Councilman Gary Hudes, Levittown Soccer Events Dir. Frank Volpe, Town of Hempstead Supervisor Kate Murray, Levittown Soccer President Jerry Marinan, New York Assemblyman David McDonough, Let-It Youth Council President Kevin Regan, Legislator Dunne, Donna Pelini, Sheryl Gifford, Dan Ginther, and Jim SanFilippo.
Front row: Members of the Levittown Seawolves Soccer team.