September 29, 2011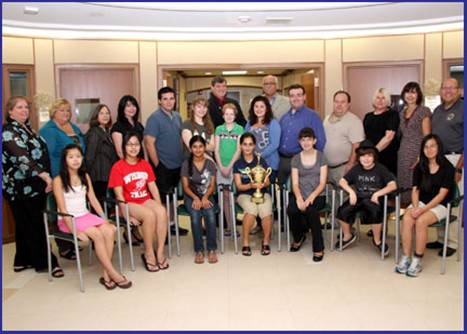 Levittown Triumphs in Nassau's First "Battle of the Books"
Nassau County Legislator Dennis Dunne, Sr. attended Nassau County's First Battle of the Books as East Meadow vs. Levittown. Young adults, grades 6-9, formed teams at their respective libraries earlier this summer to prepare for the event – showing true dedication in their time off from school and Levittown came out on top.
The Battle of the Books featured three rounds of trivia questions on several books that each student read over the summer. Each student was required to read at least two of the novels.
Shown in photo: Legislator Dunne; Ann Torcivia, IPP Levittown Kiwanis; Lisa Santer, President of Levittown Kiwanis; Joan Galante, Young Adult Librarian; Nancy Evens, Young Adult Librarian; John Sherman, Division Ave High School student; Stephanie Epp and Kaitlin Riley, MacArthur High School students; Kaite Connors, Bishop Malloy High School student; Rich Santer, Sec. Library Board and Sec. Kiwanis; Steve Dalton, VP Library Board; Mike Rundano, President Library Board; Celeste Waxman, Library Director; and Laura Hoffman, Assistant, Town of Hempstead.