March 6, 2007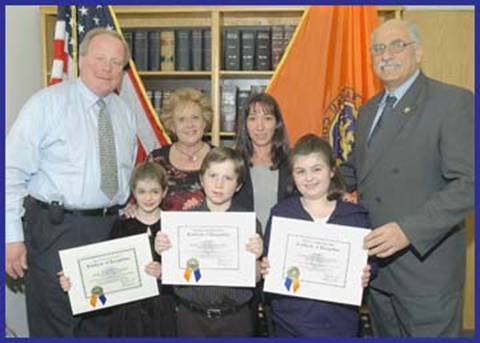 Legislator Dunne Honors "Reflections" Contest Winners
On March 5, 2007, Nassau County Legislator Dennis Dunne, Sr. proudly bestowed Certificates of Recognition upon three rising stars from the Michael F. Stokes Elementary School in Island Trees-Levittown. Brian Nocella, Alexis Meyer and Julia Maniscalco have been selected as finalists in the Nassau County Regional PTA "Reflections" Essay Contest. The topic for this year's contest was "My Favorite Place." Each of the young finalists will now move on the represent the county at the state level where the New York State Department of Education will select the state finalists.
The children's principal and teachers were on hand at the Legislative Chambers in Mineola to congratulate Brian, Alexis and Julia. "I am so proud of their accomplishment and I am overwhelmed with joy for them. I'm also deeply grateful to Mr. Dunne and the Legislature for recognizing these children's success," said Stokes Elementary Principal, Mrs. Newman. The Legislature is proud, too. "I am happy to see these young stars represent Nassau County in the state finals. Congratulations! I can't wait to see them bring home the state prize," stated Legislator Dunne.
Pictured from left in the front row are: Julia Maniscalco, Brian Nocella and Alexis Meyer.
Back row: Legislator Peter J. Schmitt, Assistant Principal Jean Ryan, Principal Lisa Newman and Legislator Dennis Dunne, Sr.