March 21, 2007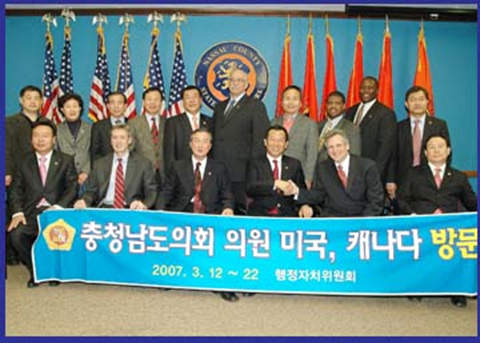 Legislator Dunne Addresses Korean Assembly Delegation
Nassau County Legislator Dennis Dunne, Sr., was invited to address a delegation of Korean government officials and local Korean dignitaries. Legislator Dunne, joined by colleagues, Legislators Edward P. Mangano and Richard J. Nicolello, welcomed Korean Province's Assembly Speaker Mun Kyu Kim, Committee Chairman Ki Young Kim, Assemblymembers Eui Hwan Choe, Kong Kyu Park, Nak Ku Beak, Ik Hwan Rew, Sun Ja Lee, Jong Hak Jung and Woo Sung Hwang, along with local Korean community leaders Kang Woon Lee, Jae Geal Kim, Eun Hyung Lee, Chahn Bae Kim, Gang Yeon Cho and Hye Sun Lee.
The delegation traveled from the Chung Cheong South Province to visit Nassau County to learn about Nassau's governmental process. Legislator Mangano instructed the Korean delegation on the layers of government here in Nassau County as well as New York State and the Federal governments. The Korean Delegation led by David Lee, President of the Korean American Public Affairs Committee and translator, of Hicksville, explained how Cheongnam has recently become a star exporter for Korea and intends to export at least $45 billion of products, including computer flat panel displays and steel products, this year.
"We are thrilled to welcome the leaders from Cheongnam to our county and we are excited to explore how we can work together to strengthen both Nassau County's economy and Chung Cheong trade," stated Legislator Dunne.