March 30, 2007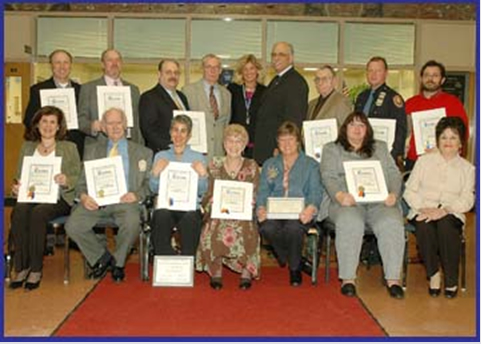 Legislator Dunne Attends Community Service Dinner
Legislator Dennis Dunne attended the 11th annual Recognition Night for Community Service Dinner held at the Gerald R. Claps Career Technical Center on March 15, 2007.
From left rear: Gary Crozier from the Kiwanis Club, Joseph Ewald of the Levittown School District, Les Rumel of the Levittown Chamber of Commerce, Dr. Herman A. Sirois Superintendent of Schools, Audre Inglehart Director of Public Affairs for the District and Director of Career Technical Education, Nassau County Legislator Dennis Dunne, Sr., William Dwyer of the Levittown United Teachers.
Front row from left: Laura Weinberg, of the Yours Ours Mine Community Center, Leroy Donders of the Forest City Civic Association, Amy Friedner of the Yours Ours Mine Community Center, Patricia McBride of Levittown Community Council, Helena Dwyer of Island Trees Youth Council, Kimberly Smith accepting on behalf of the Levittown PTA Council and Mrs. Leroy Donders. The only award recipient not present was Robert Driver who was being honored by the Levittown Historical Society.