April 23, 2007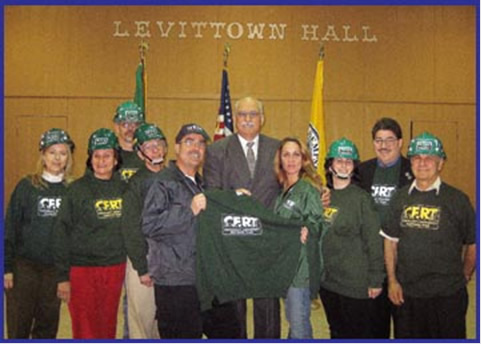 Legislator Dunne Encourages You to Become a CERT Member
Legislator Dennis Dunne, Sr., encourages all residents to attend C.E.R.T. basic training classes beginning May 3, 2007. The county's Community Emergency Response Team (C.E.R.T.) Program educates and trains Nassau County residents in basic disaster response and recovery skills. When an emergency or disaster happens, C.E.R.T. members can give critical support to first-line responders and provide immediate assistance to their community.
C.E.R.T. members receive training including emergency preparedness, first aid, fire safety procedures, light search and rescue techniques, community and family safety, team organization skills, disaster psychology, terrorism issues and C.E.R.T. procedures.
"I urge all residents to attend the 8 free Basic Training classes to become a C.E.R.T. team member. The training is fun and will give you the skills you need to help your family and community if an emergency arises," said Legislator Dunne.
The next C.E.R.T. Basic Training class schedule is: May 3, May 10, May 17, May 24, May 31, June 6, June 13 and June 20 at 7:00pm at Levittown Hall, 201 Levittown Parkway, Hicksville, NY 11801.
"Please join us!"
For more information and to sign up for C.E.R.T., please contact the Nassau County Office of Emergency Management at 516-573-0648 or www.nassaucountyny.gov/agencies/OEM/CC/CERT/index.html
Pictured, from left to right, are: Recent C.E.R.T. class members Mary Angel, Marsha Elowsky, Joe Elowsky, John Wall, CERT Instructor Bob Beckmann, Legislator Dunne, CERT Instructor Debbie Beckmann, Barbra Berse, Joel Berse and Roy Tringali.