July 23, 2007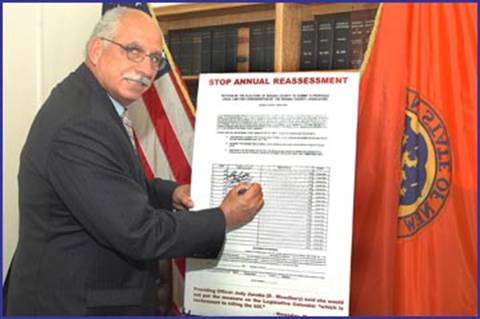 Legislator Dunne Supports Petition to Force
Nassau Legislature to Consider Five Year Property Assessment Freeze
Nassau County Legislator Dennis Dunne, Sr. and the other members of the Republican caucus have started a petition drive to force the legislature's Democratic Majority to hold hearings on a Republican proposal that would scrap the county's current program of annual property reassessment.
Earlier this year, the nine Republican members of the Nassau County Legislature sponsored a new law that would freeze property reassessment for five years. During this period, a homeowner's assessed valuation could decrease but never increase. The Democrat Majority, which has complete control over what proposed laws are scheduled for a public hearing, has refused to consider the measure.
"The rise of property taxes is making it harder and harder for residents to remain a part of Nassau County. The members of this county should not have to say goodbye to their homes and neighborhoods just because the Democrats won't step up and do the right thing," said Legislator Dunne.
Anxious for action, Legislator Dunne and his fellow Republican legislators have turned to provisions of the Nassau County charter and government law that would require the county legislature to schedule a public hearing on a proposed local law upon the submission of a petition signed by more than 2,000 qualified county voters.
The legislators and candidates are circulating this petition throughout all nineteen legislative districts in the county to obtain the required signatures. "We cannot ignore the concerns of Nassau residents any longer. The residents are demanding a freeze in annual property taxes and it is our job to give them what they truly deserve. I have been going around my district and the large majority of residents are all for this petition," said Legislator Dunne.