June 1, 2007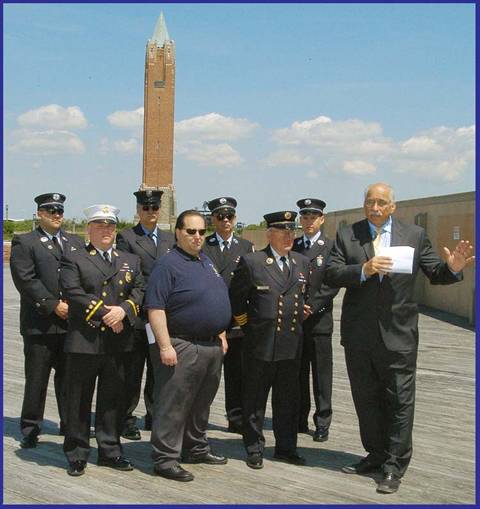 TRUMP MUST PAY FOR FIRE SERVICES
Nassau County Legislator Dennis Dunne, Sr., joined with members of the Wantagh Fire District on May 22nd at the Jones Beach Boardwalk in front of the site for the "Trump on the Ocean" catering facility and restaurant calling for an annual payment of $200,000 from sales tax revenues generated by the catering facilty to reimburse the local Wantagh Fire District for the increased services that will need to be provided to Trump's facility, once it opens.
Legislator Dunne has introduced legislation calling for an inter-municipal agreement between the County of Nassau and the Wantagh Fire District providing for annual payments of $200,000 from county sales tax revenues to reimburse the fire department for the increased services that will be needed to adequately service and protect the new catering hall.
"Once this facility opens, it will be accommodating hundreds of people at a time and creating significant increases in possible fire and emergency risks. The Wantagh Fire District is going to be responsible for providing all of the fire safety, fire prevention and other emergency services to the property, while still protecting the remainder of the district. This requires significant manpower and communications services, and the people of the surrounding area should not have to pay for this out of their pockets," said Legislator Dunne.
Wantagh Fire Commissioner Craig Craft stated, "If the Wantagh Fire District has to service the new 'Trump on the Ocean,' the financial burden should not be placed on the residents of Wantagh. We are grateful to Legislator Dunne for assisting our district as well as the entire Wantagh community."
Pictured front row, left to right, are: Assistant Chief Billy Allen, Commissioner Craft, Chairman of the Board of Fire Commissioners Don Snyder and Legislator Dunne.
Back row: Captain Leonard Mathewson, Herman Gabora, Walter Weidtman and Lt. William VanLeer.