January 15, 2009
Nassau County Legislators Pass 2009 Capital Plan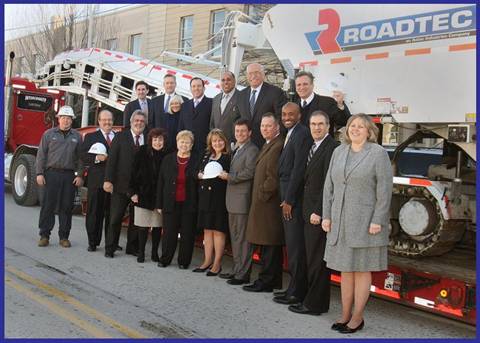 Pictured in front of a large construction tractor is Legislator Dunne and members of the Nassau County Legislature, as well as Bill Helmsorig from Interstate Paving in Hicksville and Marc Herbst, the executive director of the Long Island Contractors Association.
At the Legislative Meeting January 12, 2009, Legislator Dennis Dunne and the Nassau County Legislature unanimously voted to approve the 2009 Nassau County Capital Budget Plan. The Legislators voted to support the projects that the county will undertake to improve the health, safety and quality of life of Nassau County residents over the next four years.
These capital projects include maintenance and rehabilitation of county roads, preservation and redevelopment of county parks, enhancement of technology to improve government efficiency, and much more throughout the county and in our neighborhood. Approval of the Capital Plan ensures that the capital improvement projects will commence, contracts will be awarded, and many people in Nassau County can count on employment in the coming year. "I'm glad that we were able to agree on a smart plan for 2009 and I look forward to getting the projects started," said Legislator Dunne.