Air and Space Gala at the Cradle of Aviation
Nassau County Legislator Judy Jacobs (D-Woodbury) attended the Air & Space Gala, saluting the space shuttle and the Satellite Industry at the Cradle of Aviation Museum on Thursday, November 11th. Honored were U.S. Senator and Space Shuttle Astronaut Bill Nelson and Globecomm CEO David E. Hershberg. Globecomm is a satellite transmission Long Island Company. Also present were Astronauts Mary Cleave, originally from Great Neck, Robert "Hoot" Gibson, Tom Henricks, Kevin Kregel, and Bill Shepherd. Jacobs said, " This was truly an 'out of this world' evening, totally magical evening, in our magnificent Cradle of Aviation Museum." Jacobs added that she never knew that one could only be called an astronaut if they traveled 50 plus miles from earth.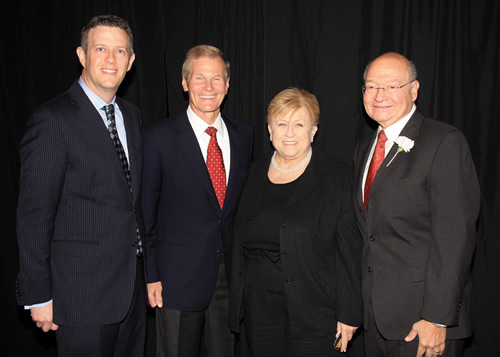 Mr. Todd Richman, Chairman of the Board of Trustees, Cradle of Aviation; US Senator and Space Shuttle Astronaut,
Bill Nelson of Florida; Legislator Judy Jacobs, (D-Woodbury); Congressman Gary Ackerman.