CCFA Team Challenge Steps Toward a Cure
The Long Island Chapter of the Crohn's Colitis Foundation of America (CCFA) was given a legislative sendoff during the July 7 session of the Nassau County Legislature. Representatives from the foundation's Team Challenge Long Island were commended on their efforts to raise awareness and funds for Crohn's Disease and Ulcerative Colitis.
Team Challenge will be visiting the running/walking courses that Nassau County has to offer to train for taking steps towards a cure in a half marathon that will be held this December in Las Vegas.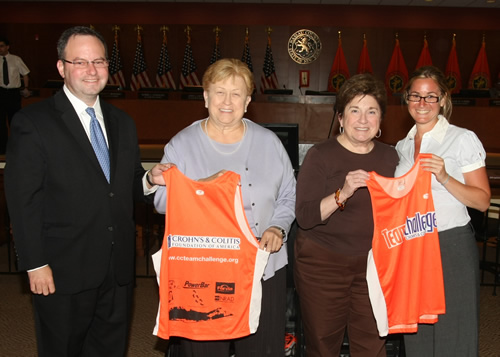 Pictured are Jonathan Cheris, Team Challenge half marathoner; Nassau County Legislator Judy Jacobs (D-Woodbury); Edda Ramsdell, executive director Crohn's Colitis; and Stacey Clark, CCFA LI endurance manager.